Novak Djokovic steamrolls Daniil Medvedev to win ninth Australian Open championship
CLOSE

Thanks to his affinity for Australia, Novak Djokovic keeps closing the gap on the men's all-time Grand Slam race.
Djokovic, the No. 1 player in the world, won his ninth Australian Open title on Sunday and 18th Grand Slam overall, dusting No. 4 Daniil Medvedev 7-5, 6-2, 6-2 in a final that was surprisingly one-sided. 
Djokovic is now within two Grand Slam titles of Roger Federer and Rafael Nadal, who each own 20 men's singles championships, making this race the closest its ever been among the three all-time greats. 
Medvedev came into the final on a 20-match winning streak and had looked to be in top form throughout the Australian Open. But his relative inexperience in Grand Slam finals was evident. Medvedev, who lost in five sets to Nadal in the 2019 U.S. Open final, struggled to maintain his patience as Djokovic dug in to long rallies and shifted tactics at times, testing Medvedev's forward movement and physicality.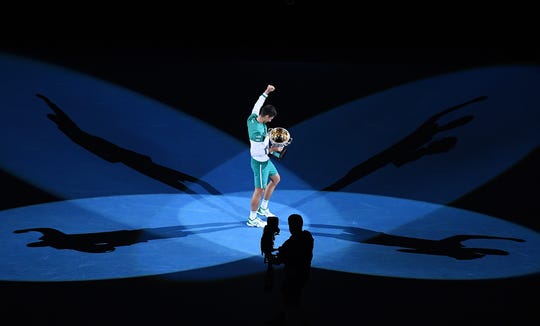 Novak Djokovic stands alone at the Australian Open after claiming his ninth men's singles championship at the Grand Slam event. (Photo: Quinn Rooney, Getty Images)
No. 4 FOR OSAKA: Naomi Osaka routs Jenny Brady to win Australian Open, fourth Grand Slam…